The Osaki OS Pro Ekon Massage Chair is a new, luxury 3D L-Track massage chair, introduced in early 2018. It is one of the lowest priced 3D L-Track luxury chairs available today. Below Massage Chair Wellness offers our our 7 reasons to buy the exceptional Osaki OS Pro Ekon for your wellness needs.
#1.   The OS Pro Ekon delivers a range of intensities, including the 3D deep tissue massage. Unlike 2D massage chairs, a 3D massage chair's rollers can move in and out (not just vertically & horizontally), and can give a much sought after, deep tissue massage. If you know that you prefer deep tissue, be sure to review and shop for 3D vs. 2D massag echairs. You will more than likely be dissappointed with the intensity and control inherent in 2D mechanisms.  
#2.   The Ekon's L-Track or long track, carries the massaging rollers from the base of the skull in an L-Shape, under the seat for penetrating glute and upper hamstring massage - offering approximately 35% more massage coverage than you received with S-Track (short track) designs. For individuals seeking relief from sciatic nerve pain, or for those seeking recovery, the L-Track design can be very beneficial.
#3.   CALF KNEADING & ROLLING. Another key, and unique feature of the Ekon, is the Calf Kneading. Osaki's designers really focussed in on the user's lower extremeties with the Ekon. Extraordinary foot rollers, air compression in the foot and calfs, and kneading in the calves. Many massage chairs include air bags to massage the calves, but the Ekon integrates rollers into the calf - for actual kneading.  
#4.   ZERO GRAVITY. You will receive the awesome benefits of the zero-gravity position. When engaged, your legs will be raised to a position that is slightly elevated from the heart. A technology developed by NASA, the zero-gravity gives a weightless feeling, and is calculated to distribute your body's weight evenly. The ideal position for a comprehensive massage.
#5.   AUTOMATED LEG REST. The Ekon features an automated leg rest, which customizes the massage to your height (length of legs). Sensors in the feet automatically detect your height. Once the sensors touch the bottom of the foot, the legrest stops. If you want it a little more or less extension, easily micro-adjust the settings on the controller. The beauty of the automated legrest, as opposed to massage chairs with spring loaded leg extension, is that your legs do not need to be engaged, to maintain the the leg rest to the optimum extension for your height. This feature is preferred for taller individuals.

Product Highlight!
Auto Leg Scan. At the beginning of the massage cycle, sensors in the foot rest detect and automatically adjust to the length of your legs. Legs can fully relax, in contrast to some spring loaded models, which require the constant application of pressure to keep the legrest extended...or you can end up with your knees uncomfortably bent.    
#6.   SPACE SAVING TECHNOLOGY. Features include a 10" glide away from the wall; this space saver allows placement of your chair as close as 5" from the wall. No need to push or pull the chair away from the wall, in order to fully recline. This is a terrific feature, as massage chairs weigh on average 250 lbs. So, if you have a relatively small footprint that you have earmarked for your chair, be sure to find a space saver, also known as a wall hugger.

Product Highlight!
Space Saver. No need to pull your chair out before use. With Osaki's space saving technology, the OS Pro-Ekon can be placed as close as 5 inches from the wall.  
3D Deep Tissue Massage Mechanism
L Track Neck to Glutes
6 Unique Auto-programs
6 Massage Styles
Manual Mode for full customization
Zone and Park modes - for targeted massage.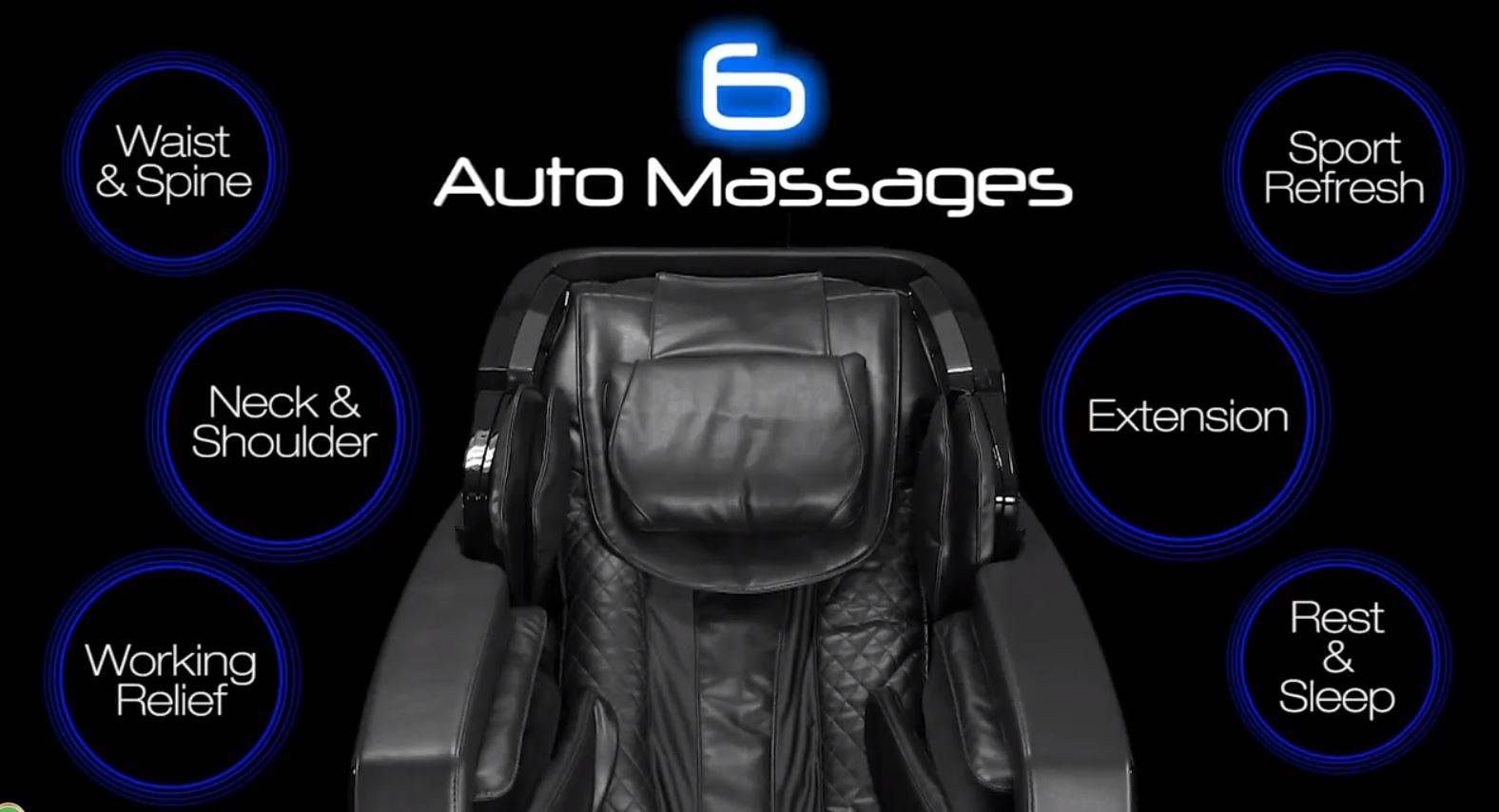 Calf Roller & Kneading Massage
Foot Roller Massage
Bluetooth & High Def Speakers
Space Saving Design
Backrest Scanning
Zero Gravity Position
Lumbar Heat
Shoulder Air Bags
Arm Air Bags
Waist & Hip Air Bags
Buttock Air Bags
Calf & Foot Air Massage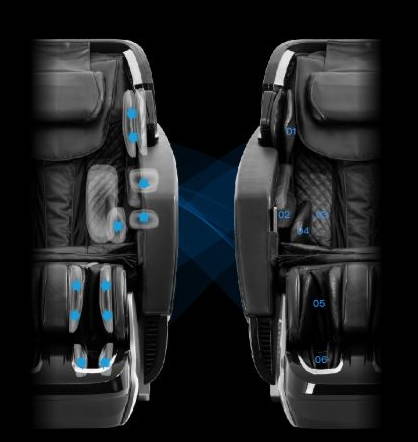 #7.   Bluetooth Sync with High Definition Sound. The bluetooth sync experience is greatly enhanced with the high definition speakers offering crisp, clean sound. A sleek, slim LCD controller with lighted screen, allows you to simply and easily control all aspects of both the chair massage, recline and legrest positions.
The OS Pro Ekon is offered in White, Brown & Black. This is an truly elegant, high end, massage chair, manufacturered in one of the best factories, praised for the lowest failure rates, and best QA/QC. We love this massage chair.
If you have any questions, or would like to discuss features and benefits of the Osaki OS-Pro Ekon Massage chair, please feel free to contact us at 888-978-5285. Or, visit our Massage Chair store showroom in Hampton, NH.  
~ Thanks for Reading!   Alison Kras
As always, be sure to call for available in-store sales & discounts 1-888-978-5285!  
Saw this product for a lower price?
Click to Chat
Email Us
Call (888)978-5285