Your Shop Informed Report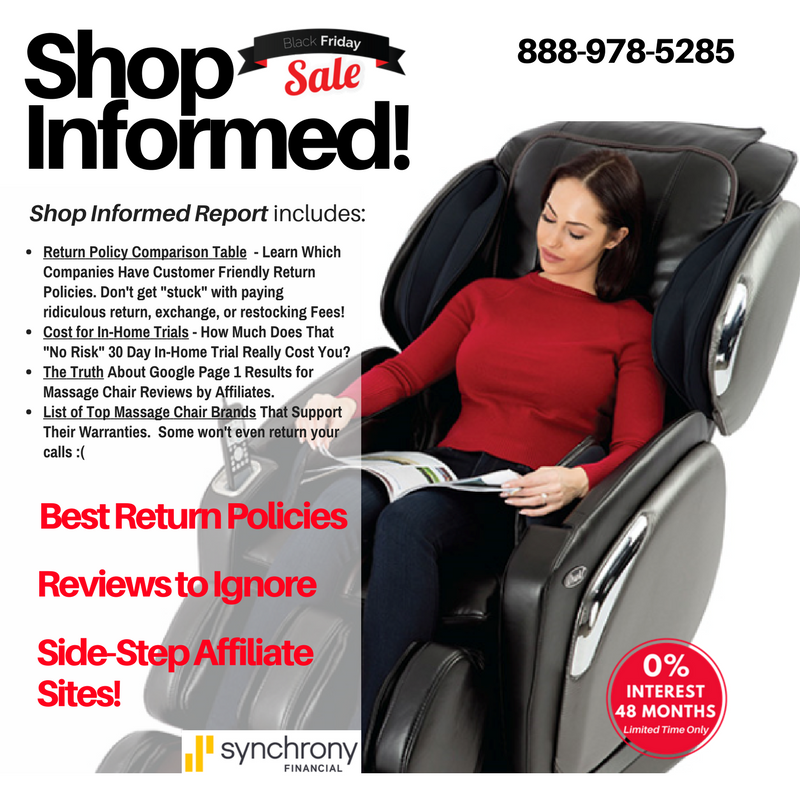 Get Your Shop Informed Report 
before

you commit to that massage chair purchase!

Massage Chairs Give Back understands that the current sea of massage chairs, offers, reviews and sellers, can become a little daunting to wade through.  Which is why we went to work compiling a new report that will make your massage chair search a little easier, and make that final click a little less intimidating.  See Report Excerpt below!

In it we help to navigate the landscape by weeding out sites with misinformation, and offer you the truth about sites that offer reviews, but then send you to Amazon to make your purchase.  You will also receive, what I consider to be a fantastic table summarizing the return policies of all of the major massage chair sellers.  Stores like Costco, Best Buy, Overstock.com, Houzz, Wayfair, and as well as authorized dealer. 
This quick read will definitely prepare you to brave
the internet in search of the perfect massage chair. 
Don't be fooled, don't be misled, Caveat Emptor!
Of course, we would like you to buy from Massage Chairs Give Back, as we believe we have all of the various credentials and experience to guide our customers through their purchase.  Plus we have one of the most customer friendly return/exchanges policies of any authorized dealer.  However, if you want to continue to search, we want to advocate on every's behalf, and do not want anyone to get snookered this Holiday Season.
---
 Report Excerpt:
No one wants to get a product, only to find out it was misrepresented, and then have to pay $500-$1000 to RETURN it!  Ouch!   Even worse, to call and email the company, and just have no one respond. ...
We offer a flat $250.00 fee for returns and exchanges, we consider this splitting the return shipping fee.  No guessing, no surprises (if you live in a remote area, you may find a split return fee that turns out to be $400-$600). ...
One massage chair company offers "Risk Free" in home trial.  You will pay $400 for this "risk free" trial - AND that price might almost double if you don't have all of the original packaging.  Mighty steep price to pay to end up with nothing.
---
As always, we hope you find this helpful, and if you have any questions, just chat or call us at 888-978-5285.  Happy Shopping!
~ The Massage Chairs Give Back Team
Live Well. Do Good.