Why are we helping to create internet monopolies?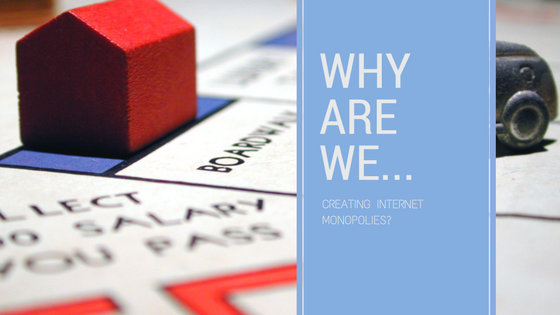 Monopolies are bad because people get bad service for high prices. Competition is good because people get good service for competitive prices. - T Draper 1958.
The quote above perfectly embodies ecommerce business via Amazon.  There was a time when businesses fought vociferously to break up monopolies in the US, to only now - out of fear or for the sake convenience, willfully feed their growth.  
Amazon is a mammoth global enterprise.  They tacitly bargained with the US government to reduce their shipping cost via US postal service.   It was recently discovered, that although they are currently THE global  marketplace, they place their own listings above those of the Sellers, who pay a monthly subscription to list and sell through Amazon.   
Amazon has one of the largest and most influential global "verified" product review databases, on which most consumers rely exclusively.  But, there is really no policing and no true consumer protection from fraudulent reviews.  Fraud is rampant - companies or "businesses" from China list as located in California.  When you contact the seller for support - you can wait months for resolution.  Wasted time, energy, frustration, it can be a horrendous experience.    
The consumer has no protection, no relationships, no customer service. Consumers have no bargaining power, or ability to request more competitive pricing.  They have given it all up for convenience, or out of fear of being scammed.
As a seller, if you require support, be prepared to spend hours, if not days, even weeks to get satisfaction.  One would think that the most powerful market place on the planet, could afford to hire adequate support, that can easily be reached by telephone.  I was actually told by an outsourced "associate", that I could e-mail Jeff Bezos, if I was not satisfied.  And, I guess while I'm at it, I'll call Warren Buffet for some tips on investing.
For Sellers, they bury seller fees, which can be upwards of 15 even 18% - making it difficult to actually find and review them.  If a seller selects "refund" and the error was not caught in approx. 18 hours, even if the transaction was for thousands of dollars, the seller could just be out of luck - and have no recourse or assistance through Amazon.
Thanks to Amazon's affiliate program, top google pages no longer contain information by authorities who have worked hard to gain consumer confidence....but instead are littered with garbage information and links to Amazon sellers who participate in fraudulent activities.  Naive or inexperienced consumers, just attempting to research products, are left pouring over misinformation, inaccurate information, and finally give up and basically purchase hoping for the best.  
Consumers - there is an alternative.   When purchasing from a website - check the following -
  -  Verified 3rd party reviews - that indicate "Verified BUYER".
  -  Are they a member of a local Chamber of Commerce.
  -  Member of Better Business Bureau and what is their rating.
  -  Is the website "secure" - to confirm this, look at the top URL - which should start with https  - the "s" at the end denotes security.
  -  CALL the business.  Is there a professional who answers, do they sound informed, ask questions.  Ask if they have a brick and mortar store.
These are simple - very simple steps that can be taken.  And, more than likely, you will have a satisfactory experience, get support when you need it, get a refund if promised, and be able to return a product without paying 50% in restocking and shipping (check their policies!).  And you will probably spend hundreds less on the product you want, by just asking if the price listed is the best price.
Thank you for letting me share.  
Sincerely,
Alison Kras, CEO/President
Massage Chair Wellness, Inc.