Tale of Two Massage Chairs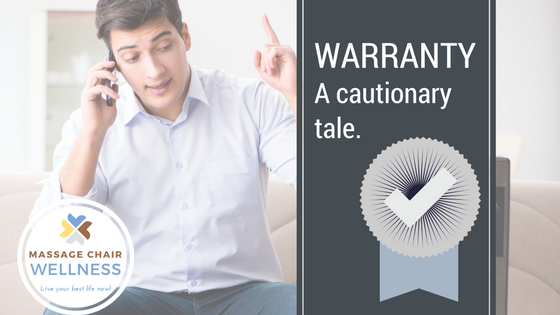 John sounded fairly frazzled by the time we spoke on the phone.
He had been trying, without much luck, to source a part for a massage chair recently  purchased on Amazon. Misfortune had turned it into what he now described as a broken, ugly, and profoundly uncomfortable 'armchair' sitting in his living room.  
"Do you carry parts for the "Shiatsu" Massage Chair?" he ventured. John had come across the number for Massage Chair Wellness while searching the internet for parts, and decided to try us out.  "Did you purchase your chair on our website?" I asked.   "No, I got it off Amazon. The d*** thing worked for three weeks, then it died".  
After speaking at length with John, I began to wonder what I could do to solve his predicament.  It turns out that he had purchased an $800.00 generic massage chair from Amazon with no warranty, customer service, or  tech support.  For weeks he had been emailing the seller, a 'company' located in China, who had been completely unresponsive.
John seemed clever and practical, so I asked him why had he been willing to spend so much money without a product warranty.  He chuckled, and said he thought buying a warranty was a scam.  I told him the scam was paying $800.00 for something fit for a dumpster.  If it came with a warranty, he would probably have been able to get his product replaced in no time at all!
John seemed clever and practical, so I asked him why had he been willing to spend so much money without a product warranty.    
 Sadly, this is not the first such conversation I have had with a customer who had been hugely disappointed or scammed after purchasing a generic, no name massage chair on eBay, Amazon, or, straight from a fraudulent massage chair website, advertising name brand chairs for ridiculously low prices.  Being a staunch customer advocate, I encouraged John to shout foul from the mountain top until he got some results from the seller or Amazon.  
Every brand Massage Chair Wellness  represents, includes a minimum 3 Year Warranty.   This means up to, and including, replacement of the entire chair!   We scrutinize the brands we represent based upon quality, customer service and technical support.
John bought an Osaki OS 4000-LS Massage Chair from me that day, which included a 3 Year Warranty.  I also threw in an extended warranty for good measure.   John said he was confident that he was not only investing in a quality product, but that he felt he was purchasing through a company that was trustworthy.
I heard from John about a month later.  He called to tell me that he found the Amazon seller' Facebook page, and posted regularly until someone responded and agreed to a full refund!
Thanks for your interest in Massage Chair Wellness.  If you have any questions, as always, feel free to email, chat or call us at 888-978-5285.