Which is right for me?
Whether you are are considering Osaki, Human Touch, Luraco, Synca or any of the top massage chair brands, the first questions that usually arise are "What is the difference between 2D, 3D and 4D?", and "which one is right for me?".  Backstory: It was not that long ago, that all massage chairs were 2D - or two dimensional.  Massage chair technology has improved dramatically since 2015, with the introduction of 3D and even 4D massage roller mechchanisms. This advanced 3D & 4D technology provides for a less robotic, much more human-like massage experience, as the rollers can extend deeply into sore and tired muscles.
Below is a brief explaination of the technology, to help you decide, which roller is right for YOU!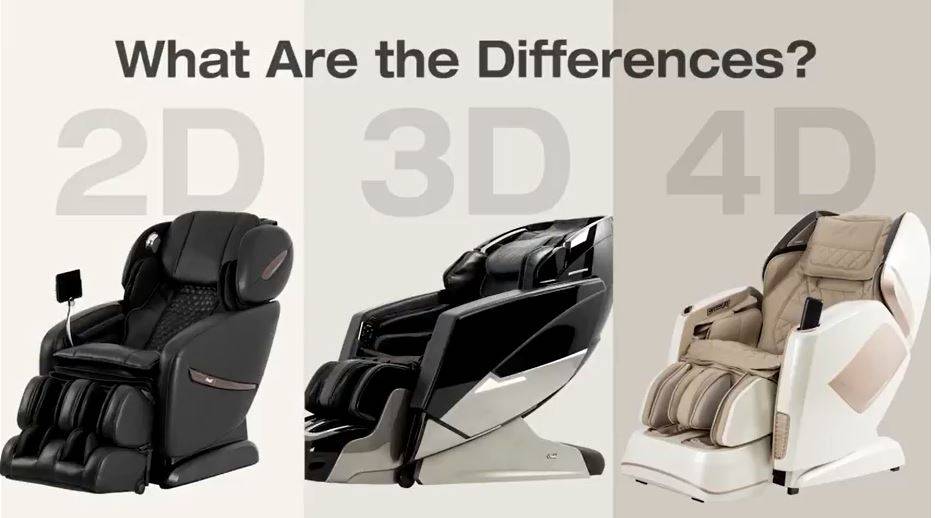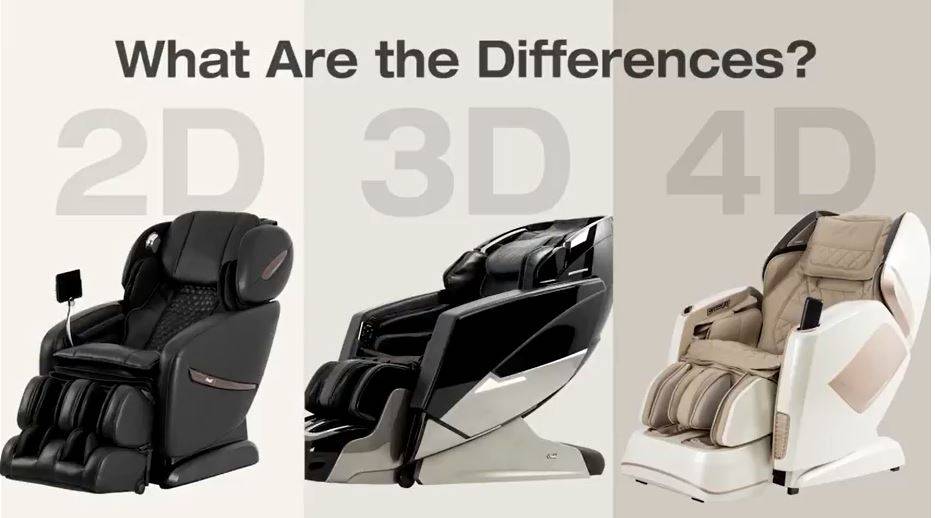 2D - or - 2 Dimension.  
A 2D roller mechanism, carries the rollers up and down the track, following the s-curve of your spine, while the roller arms move simultaneously from side to side. The rollers run through a variety of motions simulating classic massage techniques - kneading, rolling, tapping, etc. So, 2D is up & down and side to side. Massage chairs with 2D rollers, typically include a speed variable to increase or decrease the sensation of the massage.
Overall experience is a mild-moderate relaxation type massage. 
2D Massage Mechanism
You can see that the roller mechanism moves the roller arms vertically up and down the track, while the roller arms move from site to side simulating the various massage techniques.
3D - or- 3 Dimension.    
3D massage mechanism, adds another dimension, the ability to extend out. The roller mechanism carries the rollers vertically, and with the 3D technology, the rollers can protrude outward, as far as four inches on some models. The result?   a true DEEP TISSUE massage. Many people, myself included, prefer and even require deep tissue work, to achieve desired results.   With a 3D massage chair, you can control the intensity and the depth of the massage - of the massage, for the strongest most aggressive deep tissue massage - from neck & shoulders to the glutes/hamstrings (determined by the track type - S-Track (short track) or L-Track (long track).  
Overall experience is a range of massage intensities from mild to firm, for a controlled, deep tissue, sport, reflexology massage. 
3D Massage Chair Mechanism
The image to the right demonstrates how the rollers actually move in and out - pressing firmly into the back. Most chairs have depth control, making it simple to increase or decrease to desired depth.
4D - or - 4 Dimension.    
4D massage mechanisms, the newest in intensity technology, offer everything you will receive from the 3D (and of course 2D), plus, what has been coined "4D" or fourth dimension, by programming the rollers to speed up and slow down DURING the massage stroke. Let me elaborate. The rollers can move up the back, pressing into the tissue in a circular motion, WHILE speeding up the motion at the top of the stroke, and slowing down at the end of the stroke. This is described as the most human-like massage experience of any massage chair. Many of our Japanese models include a 4D mechanisms. The result?   a true DEEP TISSUE massage, with motion enhancement.  You have ultimate control over the massage strength, depth, and delivery, for the most humanistic, most customizable massage. Enjoy relaxation, restorative, deep tissue, sports massage, with deep tissue - with this intuative stroke control.
Overall the most humanistic massage experience, with a range of massage intensities from mild to firm, for a deep tissue, sport, reflexology massage experience with the added benefit of intuitive stroke speed control. 
4D Massage Chair Mechanism
The image to the right is a demonstration of how the rollers speed up and slow down throughout each stronke. Offers deep relief with the most humanistic rythm.
A few other things to consider. Most of the 4D massage chairs are designed and/or manufactured in Japan; be sure to review the user weight recommendations and chair width. The 4D selections, in my opinion, are all about the back massage. For those people who really need to work out knots and break-up adhesions in the neck, shoulders, back ... a 4D chair for you.   
Looking for gentle to moderate intensity and relaxation? a 2D massage chair should satisfy this requirement. There are a number of excellent 2D massage chair, which on average, have the lowest cost starting at the low $2k.
Looking for a deep tissue massage with targeted relief? a 3D massage chair should satisfy this requirement. There are a growing number of 3D massage chairs, offered by numerous brands, that are oustanding.  You can get a 3D massage chair for just under $3k.
Looking for a deep tissue massage with a strong emphasis on deep targeted roller work?  a 4D massage chair should satisfy this requirement. 4D Massage Chairs usually start at just over $5k and increase from there.
It is important to note buying a massage chair is an investment. And for most people, a big decision. Two of the top reasons for returning a massage chair (which is not a fun process, by the way), is that it doesn't meet the users needs, or is a poor physical fit. The best way to buy a massage chair, is to seek out a showroom in your area and try the chairs first hand. Short of that, you can read and research then work with an expert.  
We encourage you to reach out for some expert guidance when making your final selection. If only for confirmation, that it is the perfect massage chair for you. Massage Chair Wellness is not a manufacturer, but a dealer representing the nation's top ten brands. We are not limited to one brand - we literally can help you pick from the cream of each crop.  
If you have any questions about 2D, 3D, or 4D Massage Chairs, please feel free to give us a call at 888-978-5285.
If you like what you read, feel free to share this article.
Thanks for reading! Alison Kras
Click to Chat
Email Us
Call (888)978-5285